Retail Recruitment Agency in Edinburgh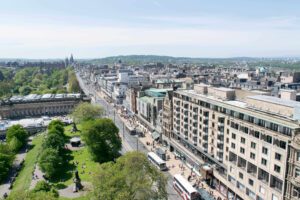 Retail recruitment in Edinburgh? Let's make this easy…
Part of your team
You might already have an internal recruitment team. So what do you need an agency for? Well, you tell us. Perhaps it's to cover for absence. Perhaps it's to cope with a major recruitment drive. Perhaps it's because your latest ad has resulted in hundreds of applications and you'll never be able to sift them all in-house.
We're not precious about the role we fulfil. We've just happy to help. We even recruit recruiters to join your in-house team.
Put us to the test.
We find candidates others can't
As long as your Edinburgh recruitment company uses the same resources and jobs boards to find candidates as everyone else, they'll only ever get the same results. So we look elsewhere. We scour our own network of thousands of likely candidates. We contact our proprietary database of local candidates. And we use the contacts of our experienced agents to find the people who aren't actively looking for a new role but are open to having a chat should the right opportunity come up. 
Retail recruitment by retailers
What makes us stand out from the rest? One of the biggest reasons clients and candidates choose us, again and again, is that we're not just expert recruiters. We know retail too. Virtually all of us have worked in retail, some as store assistants and managers, some in retail buying, merchandising, finance and more.
So when you talk to us about the challenges you face, we don't just get it, we have the experience to actively do something about it. 
Why choose Zachary Daniels for your Edinburgh retail recruitment?
The success of your recruitment exercise is locked in place long before the interviews. At every stage of the process, we do more, dig deeper and go further to make sure you love the results. Here's how: 
We get you
Of course, every recruiter talks to their clients to understand the role. But once you've worked with us, you'll realise we go much, much further. The result is a deep understanding of you and your organisation that drives better results.
Our ads get results
You know that saying 'do what you always did and you'll get what you always got?' That's the problem with so many recruitment agency ads: they all start to merge into one. No wonder candidates don't get excited. So when the job demands a fresh approach, we work hard to create ads that actively drive applications.
We make it easy to say yes
Our measure of success isn't the volume of people we send your way. It's the quality. We're aiming to send you only credible candidates. If you could happily say 'yes' to all of them, we've done our job.
We care about our candidates
We stay in touch. We keep them updated throughout the process. We help them at interviews, post-interview and even post-appointment. But the single biggest thing you need to know about the way our candidates think about us is this: once they're in post and need to recruit for their own team, they choose us again.
Specialist retail recruitment in Edinburgh
From compliance to management, property to senior appointments, we've got the people to handle your Edinburgh recruitment drive. Right now, we're seeing real growth in the following specialist areas:
Supply chain and logistics: With online retail continuing to expand at an incredible rate, the pressure is on supply chains and fulfilment capability like never before. We're helping Edinburgh retailers recruit for the future. 
Digital recruitment: Retail went digital. The challenge for retailers is that the UK has an enormous digital skills gap which means that, at the time of greatest need, those skills are in very short supply. The solution? Choose a recruitment agency that searches where others don't (or can't). That would be us.
International: You're a Scottish retailer with big expansion ambitions. Across Europe, the Middle and Far East, Australia and the US, our experts can help build your team for international success.
About Zachary Daniels
In 2012, we set up a boutique retail recruitment agency that would be run the way we felt an agency should be run. Personal. Passionate about what we do. Really committed to getting it right. It was an approach that struck a chord with clients and candidates alike, so we grew. But we still have that boutique, personal feel, because we know that's what our clients value most about us.
Helping clients and candidates find their perfect match 
We work really hard to ensure that the candidates we recommend are the right fit for our clients: 
"I have to say a massive thank you to the team at Zachary Daniels. Like many people up and down the country, I had to rethink my career due to Covid-19. [ZD was] the rock I needed. They took time to get to know me and the type of career I wanted to progress with. Due to [their] commitment, I have a newfound career with a company I never thought I'd see myself in and could not be happier. 
[With ZD] there is not a moment that passes where you are not kept up to date with the progress of your application(s) and the level of care that is given means a great deal too, from making sure you are offered the best salary (per experience), help with interviews and even follow up care after interviews, to a congratulations card when you are successful in securing that a job role!
Thank you – it really means a lot! 🙂
David Welsh, Store Manager, Regatta, Edinburgh 
"I would recommend [ZD] for any candidate looking for a new role as [they] provided me with all the information and skills in order to get over the finish line and nail an interview! They informed me of all the Do's and Don'ts which I believe I had missed in previous interviews. They coached me well and helped me remain calm yet confident in going into the interview to get the right result, which we did. Can't thank you enough for all your effort – keep up the good work!!"
Chris McReynolds, Design Engineer, Edinburgh
Roles we've recruited in Edinburgh
Take a quick search of our jobs board and you'll find lots of jobs in Edinburgh and the surrounding areas, spanning Head Office, Finance, Buying, Merchandising, Digital and more. Here are just a select few of the roles we've recruited for recently:
HR Coordinator, Edinburgh

Internal Recruiter, Edinburgh

Assistant Manager, East Lothian

Customer Service Advisor, Edinburgh

Electrical Maintenance Engineer, Edinburgh

Beauty Therapist, Edinburgh

Store Manager, Falkirk
What's it like to work with us?
Find out from the people who've already worked with Zachary Daniels – check out our testimonials. Then find out more about our approach.
Send us your CV or get in touch
---
Looking to recruit? Call us on 01925 550 422 or get in touch below...
---
What our clients say:

Usually recruiters are nice and professional, however Naomi Walsh has something more. She is professional, caring, emphatic, she is great in her job and as a human being. I am very happy to have this great experience.
Rosa


I am writing to you to express my ongoing gratitude for Salma Sodawala after she found me my new job. Salma has been amazing and the best recruiter I have worked with. She was very genuine and put me at ease from day one. She prepared me really well for interviews and was always available when I needed to be in contact for support. Salma was very knowledgeable of the sales sector and offered great guidance in preparing for interview. Salma made me feel like she'd really invested her time in me rather than just another person looking for a job, which based on past experience is how most recruiters make you feel. Even after starting the new job, Salma has been checked in with me a few times to make sure all is well. I am very grateful for all of her hard work she put into getting me my new job, which I absolutely love!
Candidate


I am emailing to give some great feedback from the service that I got from one of your colleagues Connor Smythe. Within a day of me putting my CV onto the recruitment site he was on the phone to me with an excellent opportunity for a new role with (client). I was successful in my position! And am there now and couldn't be happier. Thanks to Connor, he was also kind enough to send me a congrats card and even now is at the end of the phone if I need him. 10/10 for service and I just wanted to praise him for everything.
Hollie