Retail Recruitment Agency For Germany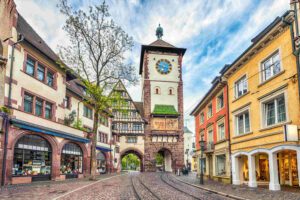 Specialist retail recruitment in Germany? Make Zachary Daniels part of your team.
German retail recruitment that works for retailers
We're based in the UK. So how come we recruit for retailers in Germany and across the world? Usually, it happens in one of two ways. A retailer works with us in the UK then, because we've built an extremely effective working relationship, they ask for our help as they expand into Germany. Or they know we have a long track record of helping retailers launch in Germany. Often it's a little of both.
German retail recruitment that works for candidates
We recruit German candidates for German retail positions. We also recruit experienced people who want to expand their retail horizons overseas. That's about more than helping you nail the interview. To make the transition a success you'll also need everything in place to live and work in Germany. Zachary Daniels' recruitment specialists see the whole picture. We'll help you get the job. Then we'll work with your new employer to make your move simple and enjoyable.
Why choose Zachary Daniels for your retail recruitment in Germany?
There are plenty of other retail recruitment agencies in Germany you could talk to (although don't feel as though you have to). So why us?
Retail recruiters for challenging times
With everything that's happened in the past few years, recruitment into Germany and wider Europe has never been more difficult. For candidates, it's harder to relocate. Rules have changed and so has the recruitment landscape. For clients, the challenge is attracting candidates who are less willing to travel than they once were. 
We're the people retailers and candidates call when they've drawn a blank in-house or elsewhere. After all, anyone can recruit when the going is easy. It's what happens when the climate is tough that distinguishes the very best.
An extension of your team
We partner with our German retail clients in a variety of ways that work for them. Sometimes we offer ongoing support for their in-house recruitment team. Sometimes we take on an individual bulk recruitment exercise. Sometimes we just take on the work they can't. 
We tackle the tricky recruitment challenges, the mammoth recruitment exercises or the single, business-critical appointments that you have to get right. And, however you work best, that's how we'll work with you.
Sourcing hard to find talent
The problem with the challenges the world's been facing recently is that they tend to make people opt for safety and stick with what they know. That makes excellent candidates less likely to be overtly hunting for a new position at just the time when you need them most. 
But ZD specialists don't just rely on jobs boards and the CVs that are sent to us every day. We've been building our networks and contacts for years. So when the right candidate eludes you, we know where they are. 
Specialist retail recruitment in Germany
From compliance to management, finance to FMCG, we've got the people to handle your German retail recruitment. Right now, we're seeing real growth in the following specialist areas:
Retail operations: New store openings? We've got an impressive track record of finding the store managers, assistant managers and store assistants that enable global brands to successfully launch new stores across Germany.
Supply chain and logistics: Every retailer is facing supply chain challenges right now. Whether your solution lies in recruiting the hauliers, delivery drivers and warehouse staff who can keep your fulfilment on track, or the strategic execs who can create a supply chain fit for the current landscape, we'll help you find them.
Buying, merchandising & eCommerce recruitment: Want to know the secret to great retail recruitment in Germany? It's never just about the technical skills or the experience. Our reputation has been built on finding good people – people who fit your brand, who complement the rest of the team they'll be working with. People who'll make a difference. Find them with us.
Partnering clients and candidates in Germany
We have an impressive track record in recruiting for retailers in Germany:
"Great collaboration, professional and always very nice. Highly recommendable."
Jan-Paul Matuszewski, Showroom Manager, Peloton, Dusseldorf
"Thanks to Zachary Daniels, I am looking forward to a new challenge and development opportunity. The communication was always courteous and super friendly."
Sebastian Tabernacolo, Store Manager, Peloton, Engelhorn
Roles we recruit in Germany include:
Take a quick search of our jobs board and you'll find jobs in Germany. Over the past few months, here are just some of the roles for which we've recruited across the country:
Showroom Manager, Dusseldorf

Store manager, Mannheim

Export Sales Manager, Hamburg

Product Developer, Frankfurt

Store Manager, Leipzig
If your talent is in any of these fields, we need to talk to you…
About Zachary Daniels
In 2012, we set up a boutique retail recruitment agency that would be run the way we felt an agency should be run. Personal. Passionate. Really committed to our clients, candidates and our team – so much so that we made the company employee-owned (a bit like John Lewis) so everyone here could have a stake in our success. 
It was an approach that struck a chord, so we grew. But we still have that boutique, personal feel, because we know that's what our clients value most about us. 
Send us your CV or get in touch
---
Looking to recruit? Call us on 01925 550 422 or get in touch below...
---
What our clients say:

I would like the opportunity to say how brilliant Connor Smythe has been in supporting my career change and job search in general. I have thanked Connor personally but believe you should be made aware of how great of a job he has done in supporting me through this journey. (Connor Smythe – Feb 2020)
Candidate


I would like to thank Zachary Daniels, in particular Adem for being fantastic from start to finish. Absolutely is first class and service and keeping contact with me as their candidate. I was always responded to within 24 hours and the reply would always answer my question and give additional help. I have already started to recommend them to friends and family. Thanks so much.
Rafael


Adem Ismail made me feel very comfortable and introduced me to (client). He constantly kept in contact with me to make sure that I feel comfortable before an interview with (client). I wasn't aware to ask questions and he called me back every time i was asking for. All in all I can say that Zachary Daniels is a serious company and I would recommend it to everybody I know.
Joanna