10th May 2023
8 Steps to Becoming A Retail Manager
Retail's right for you. You've already made an impact on the shop floor. But how do you progress to retail management? Here's our guide to taking the next step.
What is a retail store manager?
If you already work in retail, you'll have had plenty of time to observe and learn how to do it from your own manager. Yet you might not see everything that your manager's role involves. Because beyond the high-profile stuff like recruiting, training the team and managing the customer complaints that threaten to get out of hand, your manager will also be juggling budgets, managing costs, analysing figures and finding ways to tweak your store's formula to eke out an extra few percentage points of performance.
Which brings us nicely to our first tip for becoming a retail manager…
1: Learn from your boss
We're assuming you already have a role in retail (if you don't, we'll explore other routes into retail management below). Your starting point on your managerial journey should be your own manager.
Ask them about their role. Ask them what's involved. If they're willing, ask to job shadow them for a period, so they can show you the parts of the job that may not be immediately obvious. Ask them how they became a manager and ask for their advice on how you should do the same.
There are two big advantages to this. First, you get lots of useful information from someone who's actually doing the job. Second, you make them fully aware of the fact that you're looking to progress, which may make them more likely to keep you in mind for upcoming opportunities.
2: Learn the ropes
You may already work in retail, but there are aspects of store life that you may never get to see or take part in because they're not part of your job description. Whether it's stock deliveries, audits, visual merchandising or customer services, ask your supervisor about getting more involved with aspects of the business that, as a manager, you'll need to know about.
3: Demonstrate the skills
On the face of it, you might think it wouldn't be easy to demonstrate the skills of a retail manager when you're not a manager. In reality though, you're probably already putting several management-essential skills to work every day.
For example, you don't have to be a manager to show you're committed to great customer service, that you're able to work under your own initiative and under pressure, or that you're good at leading and convincing others.
The key now is to explore what other skills are essential as a retail manager which you perhaps don't get to demonstrate regularly. Perhaps you don't get much chance to flex your strategic or analytical muscles. Maybe you lack formal supervisory experience. Perhaps you haven't trained and developed others. These are all points to raise at your next review, with a view to getting some experience in these areas.
4: Get qualifications
If you start on the shop floor and work up, you may not need academic qualifications to progress to a retail manager position, depending on your experience and the capabilities you've been able to prove.
There's no doubt, however, that qualifications can speed the process up. In some instances and with some qualifications, you could be fast-tracked straight into a management role.
Any university degree could see you accepted onto a retailer's graduate management programme. A degree in business retail management or retail marketing could give you an extra advantage, especially as positions are highly sought after.

A college diploma in retail management could help build some of the skills you'll need and help fast track you towards supervisory roles.

As the

National Careers Service notes

, a retail management higher apprenticeship or retail leadership degree apprenticeship could also be a route to management. Alternatively, a retail team leader advanced apprenticeship could be a wise stepping stone towards management.

For all the above routes, experience within retail will be an added (if not essential) advantage. Experience with that specific retailer may also help. Working in store while studying is also extremely valuable, as it gives you the opportunity to put your learning into practice.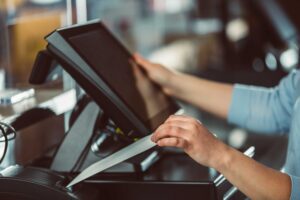 5: Seek out opportunities
When training opportunities arise, seize them. When there's a chance to work with the management team on the stock audit, eagerly volunteer for it. When there's a new project being run by head office and they need people from the shop floor to be part of it, raise your hand.
Not only does seeking out opportunities help build your skills and experience; it can also help introduce you to people within the organisation who can help you progress.
6: Work your way up
One of the most powerful ways of showing you're ready for retail management is proving yourself as a supervisor, department head or deputy manager.
In addition to giving you lots of experiences that help prepare you for the big job, doing any or all of these roles gives you lots to talk about when you finally apply for a retail manager role.
7: Ask
This is the step to retail management that is most often missed. Often, it's missed because most people feel uncomfortable asking for a promotion. But think of it this way:
If you're great at what you do…
If you've demonstrated the skills required by a retail manager…
If you've sought out new experiences and opportunities, gone above and beyond the 'day job' to prove you're ready for management and every piece of feedback you receive is that you have management potential…
…why wouldn't you ask for promotion? In many ways, the act of asking (and the way you ask) is a further demonstration of your readiness.
So gather your evidence. Decide what you're actually asking for (i.e. do you want to be considered for management training, do you want to be the department supervisor or do you want the vacant deputy manager's role?). Plan what you're going to say.
Then ask.
8: Don't settle
This is where the right recruitment partner can prove essential. We speak with lots of retail managers-in-waiting who have all the skills and experience they need, but the opportunities just aren't coming up with their existing retailer.
It's not always easy to think about leaving, especially if you've been with your employer for some time and you feel loyal towards them. But there comes a point where you have to put yourself first. If you've done all you can to gain promotion and the opportunities still aren't appearing, be bold.
Take the initiative. Talk to a specialist retail recruiter who can help you find the role you've been looking for. To do that now, talk to us.
---
<

Back to list