How to Get the Best from an Interviewee
7th November 2022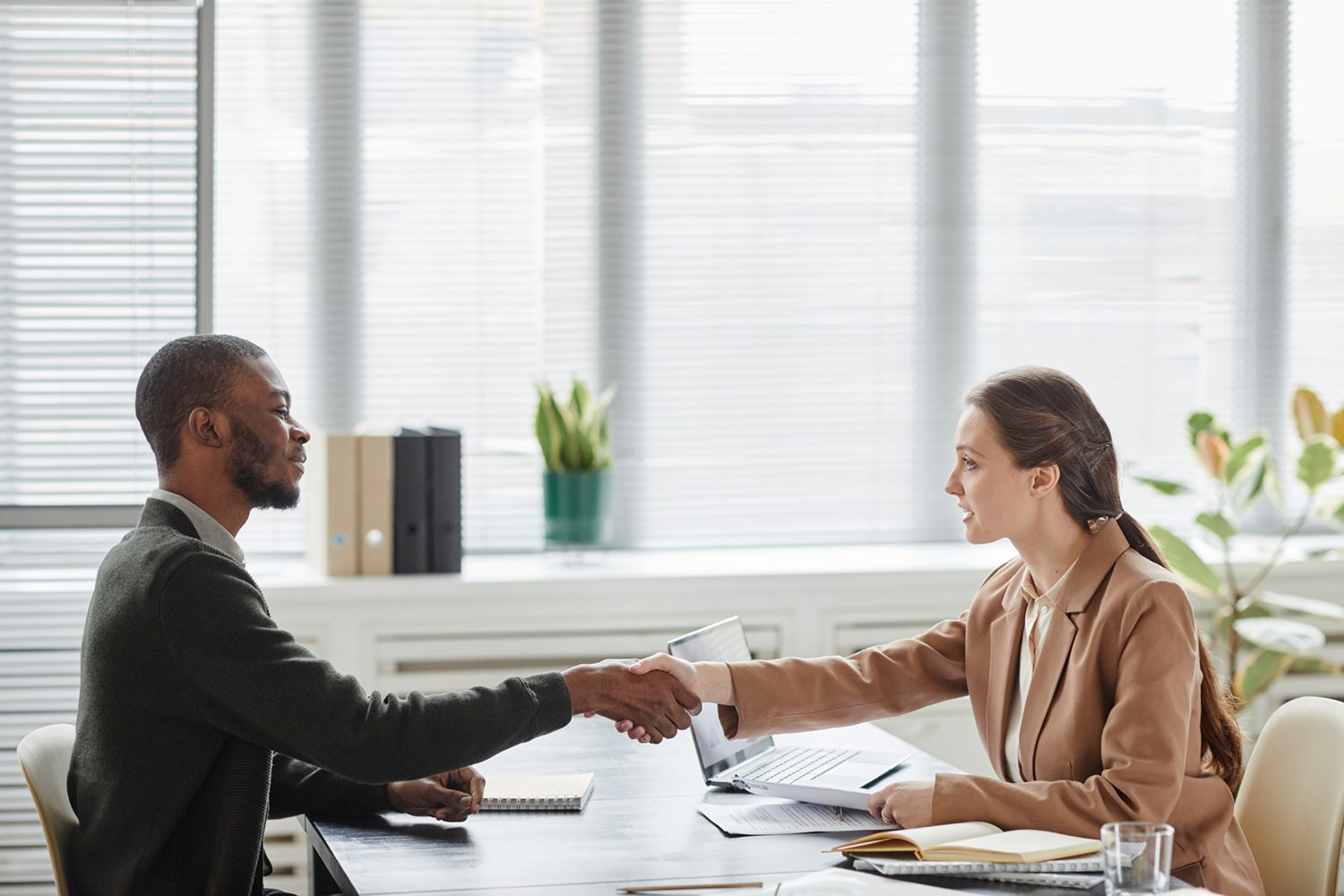 It's not just the candidate who's under pressure to nail the interview. Here are seven tips to help you get more from your interview process.
Great talent is always in short supply. Not only do you already know that; it's probably a significant factor in why you're having to interview for new recruits right now. Recruiting is a commitment. It takes time, effort and money, so you'll want to get it right first time – and that relies on more than the quality of the candidates; it's down to the interviewer(s) too.
So here, as suggested by our own recruiters, are some simple tips to help set you up for a successful round of new recruit interviews.
1. Know the goals, plan the discussion
Be really clear about the skills, capabilities and traits you're looking for and plan the flow of the conversation to ensure your questions target the areas about which you need information. There's a limited time available at interview – you don't want it to end it feeling you don't have all the information you need.
2. Do the preparation
Two key elements here: first, you'd expect the interviewee to have done their homework about your organisation, so make sure you've done a little prep about them. At the very least, have a read of their CV and, if you can, use it to personalise some of your questions. Each candidate should receive the same questions so you can make a clear comparison, but there's nothing wrong in tailoring questions so they relate specifically to the interviewee's experiences.
Second, make sure you know the details of the job they're applying for (including salary and benefits) and consider what makes your organisation a great place to work. If you're going to invite your interviewee to ask a question or two, it's best to be prepped to answer them.
3. Keep it relaxed
It's not an interrogation, it's an interview, and you want the candidate to leave the process feeling as though they would be happy to work for your organisation. So smile. Keep the language informal and make regular eye contact. At the outset of the interview, explain the process and what will happen. At the end of the interview, thank the candidate for taking part and tell them when they can expect to hear the outcome.
4. Start soft
An icebreaker isn't a waste of time. It helps put your interviewee at ease, helps build rapport between you and gives them the best chance of showing you what they're capable of. Don't be tempted to skip it.
5. Ask questions that reveal something insightful about the interviewee
"What's your biggest weakness?" is one of those questions that's become a bit of a cliché. It's a thing to ask when you can't think of anything else, and the answer is almost always an invitation for a bit of pointless humblebragging ("If anything, I'm perhaps just a bit too committed" etc etc).
We'd always suggest asking a question to which you actually want an answer than this sort of 'puzzle box' question which rarely provides any real insight. 'Can you think of an occasion when you had to think on your feet/deal with an aggressive customer/persuade a peer about a course of action – what did you do?' are all questions likely to deliver something of genuine value.
6. Probe cultural fit, but be flexible
Cultural fit is a huge deal at Zachary Daniels. When a hundred candidates can look great on paper, finding the people who fit your organisation like a glove is the real skill. Even so, there's a balance to be struck. Cultural fit doesn't just mean 'finding more people like the ones we already have'. It could mean finding people from different backgrounds and with new ways of thinking, but who complement the culture you've already created and help it grow in new and exciting ways.
When asking questions about cultural fit, recognise that an unexpected answer isn't necessarily a wrong answer, and that people can adapt and change to fit your mould.
7. Write notes now, rate later
It's tempting to rate an interviewee immediately after the interview, but this leaves you open to subconscious bias. It's very easy to be swayed by an interviewee's presentational skills when they sound convincing or sound like you (or both). Yet with a bit of distance between you and the interview, you might see things differently.
So rather than rating at the point of interview, write factual notes: 'gave a convincing example of being able to persuade management' or 'didn't answer the question about making change stick'. Then use those notes to rate the interviewees in one block at the end of the day/process.
8. Get help
Prepping your interviewees and ensuring you've met their needs and made any reasonable adjustments takes time. A recruitment partner won't just help you find the right interviewees; they'll help you manage the process too – and the smoother and more relaxed the process, the better the impression you'll create.
For help in making your next round of recruitment – and the interviews – more successful, talk to us.
---
<

Back to list