Asda rolls out high-tech trolley cleaning machine which can kill 99.9% of bacteria in 15 seconds
29th July 2020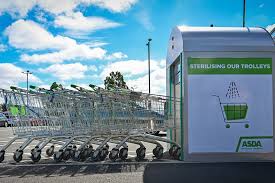 Asda is trialing a trolley cleaning machine which will kill 99.9 per cent of bacteria in a matter of seconds.
Asda's superstore in Morley will be testing the new high-tech machine which uses electrostatically charged mist to cover the trolleys in anti-microbial liquid.
The technology, developed by WasteCare group, ensures the entire trolley is covered in the mist allowing store staff to pass stacks of trolleys through the machine to be cleaning within 15 seconds.
According to the company, one tank of its waterless anti-microbial spray can clean up to 20,000 trolleys.
---
<

Back to list